Welcome to the Blue Topia Wiki Edit
---
The Official Wiki for the Blue Topia Minecraft Bedrock Editon
The largest Minecraft (Bedrock Edition) city map in the community, it is virtually impossible to know all of its secrets without this wiki. In this wiki, you will uncover the history and evolution of this map and live the map to its fullest.
Learn more about the map's regions and buildings: Districts
About Blue TopiaEdit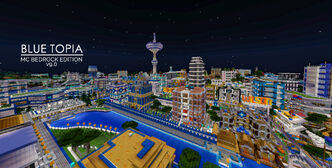 BlueTopia, also called Blue City, was created back in 2012 when world generation is still finite. In this eighth release(v9.1) it has been developed into a modern metropolitan. With shining lights, shops around you , fast & easy-to-use transport system, you can get around the world and enjoy the delight of being a MC citizen seamlessly. If you are bothered by the hustle and bustle, you can enjoy your day in FunLand!  Here is the city which considers the safety and quality of life of citizens. We hope you a good trip around the city.
Latest activity
Edit
Photos and videos are a great way to add visuals to your wiki. Add one below!
Community content is available under
CC-BY-SA
unless otherwise noted.